Maria Radulovic, F-NP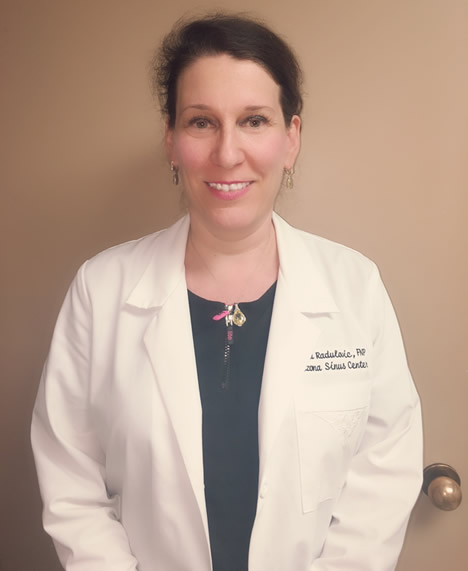 College: Elmhurst College, Elmhurst, Illinois: B.S. Nursing
Master's Program: Grand Canyon University, Phoenix, Arizona: Family Nurse Practitioner (F-NP)
Maria graduated from nursing school in ex-Yugoslavia in 1988. She received her Bachelor's Degree in Nursing at Elmhurst College in Illinois and started her nursing career in the United States in 2000. Maria moved to Phoenix in 2001 and has worked at St. Joseph's Hospital/Barrow Neurologic Institute, Mayo Clinic Arizona, Honor Health Osborn and Scottsdale Shea Medical Centers as well as Banner Dell-Webb, Banner Boswell and Banner University Medical Center-Phoenix.
Maria has experience in ICU, CVICU (cardiovascular ICU), and Transplant Medicine including 4 years at the Banner University Medical Center-Phoenix Transplant Center. Maria has developed skills in complex medical care of critically ill adults, post-partum women with child delivery complications, and the geriatric population. Maria also experienced in treating diseases of the heart and vascular system and providing acute post-operative care following cardiac and vascular procedures. Her transplant experience includes care for adolescent and adult kidney/pancreas transplant patients.
Maria joined Dr. Rehl in 2016 after graduating from the Family Nurse Practitioner program at Grand Canyon University. She provides care to patients with difficult and complex sino-nasal problems including chronic sinusitis, acute sinusitis, allergies, anterior skull base tumors, nasal and sinus cancer and cerebrospinal fluid leaks. Maria has a special interest in the medical care of chronic sinusitis and the impact of lifestyle and diet on nasal and sinus health.
Maria is on staff at Banner University Medical Center-Phoenix and Biltmore Surgical Center. Maria evaluates patients at Arizona Sinus Center (University Medical Center/Good Sam Division of Valley ENT) located at 1515 N. 9th Street, Suite B (McDowell Rd. and 9th St).
During her free time Maria enjoys spending time with her daughter. Hobbies include following her daughter's dance performances and going to opera, and ballet.